The world's first HVDC transformer passes the test for 1,100 kV level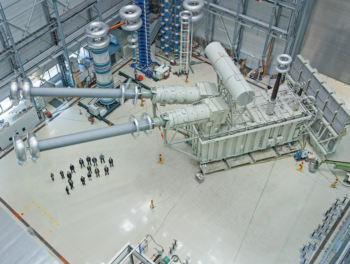 Companies
Posted by Staff
Siemens has announced that the world's first transformer, manufactured for high-voltage direct-current (HVDC) transmission systems with what is currently the highest transmission voltage of ± 1,100 kilovolts (kV), recently passed its type test.
The company developed, manufactured and tested the HVDC transformer in its transformer factory in Nuremberg. It is the first of a total of seven ±1,100 kV transformers that Siemens and a partner company are building for what is currently the world's largest HVDC transmission system.
According to Siemens, this type of transformer is among the most powerful single-phase units in the world, with a transmission capacity of 587.1 megavolt amperes (MVA). Siemens is building the transformers in its network of factories led by its Nuremberg plant, in cooperation with its factory for HVDC transformers in Guangzhou, China, as well as another Chinese partner. These factories are manufacturing the machines according to the specifications and documentation of the lead factory in Nuremberg. Commissioning of the world's largest HVDC link – and thus also the transformers – is scheduled for 2018.
"With successful testing of the world's first HVDC transformer for a transmission voltage of ± 1,100 kilovolts, we have set a new benchmark in direct-current transmission," states Beatrix Natter, CEO of Power Transformers at Siemens Energy Management. "Experience and ingenuity are what made this development possible. It makes direct-current transmission over long distances more efficient for our customers, because higher transmission voltages mean lower transmission losses."
The transformers will be installed in the Guquan converter station of the HVDC link between the Chinese cities of Changji (Xinjiang) and Guquan (Anhui).
Source, photo: Siemens
Comments