New Barakah Nuclear Energy Plant energizes main transformers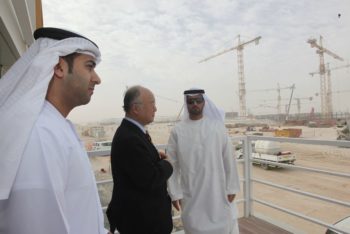 Companies
Posted by Staff
The Emirates Nuclear Energy Corporation (ENEC) has announced a series of significant milestones in the construction of its $20 billion Barakah Nuclear Energy Plant.
The achievements include the connection of Units 3 and 4 to the UAE's electricity transmission grid, ENEC said in a statement.
They also include the energisation of Unit 2's main power transformer (MTR), excitation transformer and unit auxiliary power transformers (UAT).
Photo:
Wikipedia
/ /
IAEA Director General Yukiya Amano at Barakah nuclear power plant construction site, United Arab Emirates Mr. Mohamad Al Hammadi (right), Chief Executive Officer of the Emirates Nuclear Energy Corporation (ENEC), Ambassador Hamad Al Kaabi (left), Resident Representative of UAE to the IAEA, and IAEA Director General Yukiya Amano (middle) view construction under way at the Barakah nuclear power plant construction
Comments