ABB successfully tests HVDC link in North America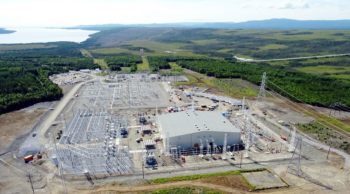 Companies
Posted by Staff
The Maritime Link is a 500 megawatt (MW) high-voltage direct current (HVDC) connection that will enable clean, renewable energy, generated in Newfoundland and Labrador to be transmitted to the North American grid in Nova Scotia. The stabilizing features of ABB's latest HVDC Light® solution will also allow Nova Scotia to integrate additional renewables and contribute to Canada's emission-reduction efforts.
"Our innovative HVDC Light technology will enable the historical Maritime project to integrate and deliver clean renewable energy while enhancing grid stability and enabling power sharing", said Patrick Fragman, head of ABB's Grid Integration business, a part of the company's Power Grids division. "HVDC transmission, a technology we pioneered and lead, is an important element of our Next Level strategy, providing customer value and enabling a stronger, smarter and greener grid."
In addition to the two converter stations for the ±200 kilovolt (kV) HVDC link, the project scope also includes two 230 kV alternating current (AC) substations in Newfoundland, one 345 kV AC substation in Nova Scotia and two cable transition stations.
Comments