Siemens announces lower volume from large orders in its transformer business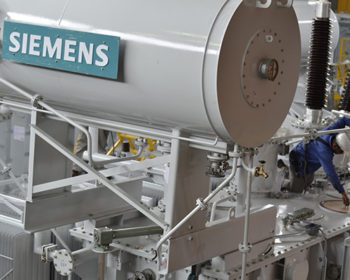 Companies
Posted by Staff
Siemens has announced "lower volume from large orders, mainly in the transmission solutions business, and order declines in the high voltage product and transformer businesses."
A decline was reported primarily in the region comprising Europe, C.I.S., Africa, Middle East (Europe/CAME) for Q1 FY 2018 in the Energy Management business.
The profit increased despite lower revenue mainly due to lower severance charges, profit and profit margin remain on prior-year level despite negative currency effects
For Siemens as a whole orders rose 14% to €22.5 billion and revenue was up 3% at €19.8 €billion, including strong growth contributions from Mobility and Digital Factory and new business particularly resulting from the merger of Siemens' wind power business with Gamesa Corporación Tecnológica, S.A.
"The first quarter underlines the strength of our company. We take advantage of the growth momentum of the global economic upturn and set benchmarks in industrial digitalization. We clearly understand our opportunities and we know what we have to do," said Joe Kaeser, President and Chief Executive Officer of Siemens AG.
Source, photo: Siemens
Comments