Thyssenkrupp: Efficiency of electrical steel improved by 40% over past 20 years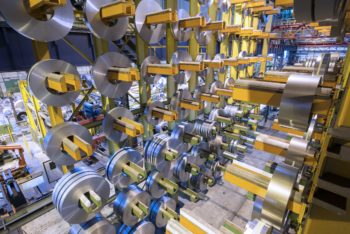 Companies
Posted by Staff
Thyssenkrupp Steel Europe has announced that it has improved the energy efficiency of its electrical steel by almost 40 percent over the past 20 years.
"And there is more to come," the company states in a press release. A particular challenge for Thyssenkrupp Electrical Steel is meeting the EU's Ecodesign directive, under which requirements for the efficiency of transformers are being gradually tightened to allow energy to be transported with even lower losses. The loss rate in Germany alone is currently two to three percent.
"In the future more differentiated electrical steel grades will be needed for this. We are already well positioned with regard to these premium grades, and are participating in these developments with our special high-grade grain-oriented electrical steel products," says Dr. Overrath, CEO of thyssenkrupp Electrical Steel.
At CWIEME, the international Electric Motor & Transformer Manufacturing exhibition being staged in Berlin from June 19 to 21, Thyssenkrupp is displaying applications for this key material for the energy transition with exhibits such as a charging point for electric cars and a stato.
Photo: Thyssenkrupp Steel Europe
Comments