Siemens wins major contract for grid connection at Triton Knoll offshore wind farm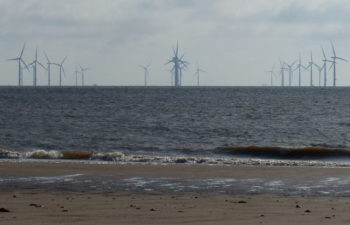 Substations
Posted by Patrick Haddad
Siemens Energy Management has won a contract to design, supply, and build the grid connection for the Triton Knoll offshore wind farm by German energy company Innogy SE.
The wind farm is located 32km off the coast of Lincolnshire, UK and will have an installed generation capacity of around 860 megawatts after its completion.
Triton Knoll is intended to provide clean and sustainable power for the equivalent of at least 800,000 British homes. Siemens will lead on the construction of a new four-hectare onshore substation at Bicker Fen, as well as offshore infrastructure, including two Offshore Transformer Modules (OTM ®).
"This is an important project to deliver clean, green energy to UK homes and businesses and we're delighted to be a partner. We have a strong track record in delivering grid access projects and look forward to implementing our market-leading technology at Triton Knoll," said Mirko Düsel, CEO of Transmission Solutions Business Unit at Siemens Energy Management.
Innogy's Triton Knoll project director, Julian Garnsey, added: "I'm really pleased to have such an experienced company on board. Siemens share our goal to use our investments to the benefit of UK businesses and suppliers, and their involvement represents a very real opportunity for competitive regional and UK companies to benefit from our project. This project will trigger a capital expenditure investment of around £2 billion into much needed UK energy infrastructure."
Construction has already begun on a new bell mouth entry point and 3.8km access road to the new substation construction site. The offshore substation construction will start early 2019 and Siemens' engineers have been working closely with the Triton Knoll team already in the lead up to the commencement of construction.
Source: Siemens
Photo (for illustrative purposes): Lincs Offshore Wind Farm/ Mat Fascione/ Geograph/ CC BY-SA 2.0
Comments