T-4 transformer and 500kV cable installed at Toktogul HPP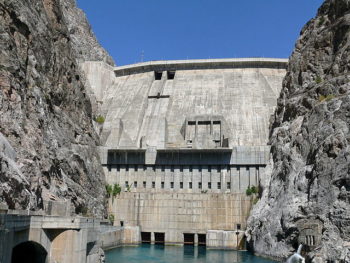 Service
Posted by Patrick Haddad
Toktogul Hydroelectric Power Plant (HPP) has replaced its No.1 transformer and the 500kV cable as part of a broad 'rehabilitation' scheme for the Kyrgyz Republic's hydropower facilities.
According to Azamat Abdykadyrov, Chairman of the Board of the National Energy Holding Company, the replacement of the transformer and cable was completed and installed and are planned for commissioning on October 20.
An overhaul was also carried out of the hydroelectric unit of the Toktogulskaya HPP, the Shamaldysayskaya hydroelectric unit, and the hydro gate No. 3 of the At-Bashinskaya HPP. The repair of the unit No. 2 of the Kurpsai HPP was also carried out.
In addition, a further overhaul of the Kambar-Ata hydro-power plant No. 1, currently under repair, is planned for the end of October, as well as for Unit 3 of Uch-Kurgan HPP and Unit 4 of Kurpsai HPP.
At the Bishkek heat and power plant, boiler units No. 10, 15, 16, 23 are under repair, which are to be completed by November 1, boiler No. 22 on November 15.
The current repair of turbo units No. 5, 7, 8, 11 has been completed, while 10 boilers are in reserve, which are currently ready for operation, he said.
Source: Tazabek
Photo (for illustrative purposes): Toktogul Dam/heinerbischkek / Wikimedia/ With Permission
Comments