China and Kazakhstan sign $1.9 billion investment agreements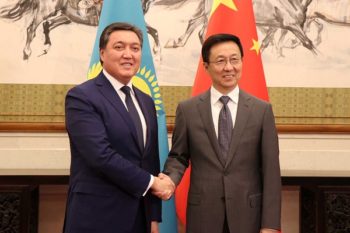 Companies
Posted by Patrick Haddad
First Vice Premier of the State Council of China and co-Chairman of the Kazakhstan-China Cooperation Committee Han Zheng and First Deputy Prime Minister of Kazakhstan Askar Mamin oversaw the signing of agreements and contracts for 11 new joint projects worth $1.9 billion.
Bilateral cooperation in energy, transport and logistics, agriculture, and industry were discussed by the two sides, as well as the development of cross-border and inter-regional ties. Mamin also met with leaders of major investment, financial, industrial, construction, transport and logistics firms during his visit to Beijing on Sept 26.
"Thanks to the leaders of the two states, President Nursultan Nazarbayev and Chairman of the People's Republic of China Xi Jinping, Kazakhstan and China have achieved a high level of cooperation across the spectrum of bilateral relations. The conjugation of the Nurly Zhol Infrastructure Programme of Kazakhstan and the Belt and Road Initiative of China has led to a high level of investment cooperation between our countries," Mamin said during the talks.
China is one of Kazakhstan's main trade partners, with bilateral trade growing 30 percent in 2017. Both heads of state have set a target of achieving a $20 billion trade volume.
Contracts have been signed between Kazakhstan Temir Zholy national railways company, Huawei International Co. Ltd, and Ili Baitexing Commercial Trading Co. Ltd. on the development of e-commerce. Roadmaps for the construction of a TV production plant as well as agricultural and road construction equipment were also agreed upon.
Source: Astana Times
Photo (for illustrative purposes): Askar Mamin and Han Zheng in Beijing/ PrimeMinister.kz Int/ Twitter/ With Permission
Comments