Vaisala DGA Monitors used to help protect transformers from solar flares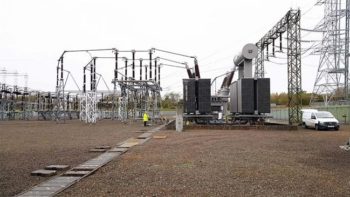 Tech
Posted by Patrick Haddad
Scottish Power has installed Vaisala's Optimus OPT100 Dissolved Gas Analysis (DGA) Monitors at a number of its sites throughout the UK in order to guard against the impact of solar flares on power transformers.
Solar flares have the potential, when coupled with local geology, to affect a transformer's magnetic circuit, causing significant damage to the transformers as well as leading to inefficient power transmission.
Rather than relying on manually-collected samples of transformer oil, Vaisala'S DGA monitors allow for detailed, online analysis of the transformer health. The OPT1000 measures moisture as well as seven different fault gasses in transformer oil.
Scottish Power has installed these monitors at several sites, including at a site in Scotland's central belt, monitoring their 1000 MVA auto-transformer.
"Scottish Power has a number of strategic transformers on the transmission network that require advanced condition monitoring, and we have been increasingly wary of the effects of solar flares and geomagnetically induced currents to disrupt their efficient performance. The Vaisala unit was installed as it met our current specification of online DGA devices with the addition of being maintenance free," said Keith Black, System Performance Senior Engineer at Scottish Power.
"The OPT100 gives us the ability to track any disturbance that may occur and extend the lifetime of our transformer, as well as reducing the possibility of any unplanned outages," he added.
Source: Vaisala
Photo (for illustrative purposes): LIFT Power Scotland/ Vaisala/Press Release Image/ With permission
Comments