EIB to provide €60 million loan for Portugal wind farm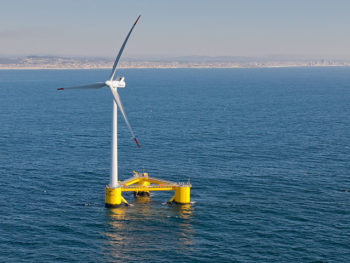 Misc
Posted by Patrick Haddad
The European Investment Bank (EIB) has agreed to support the development of a floating wind farm off the coast of Portugal with a €60 million loan.
The recipient of the loan is Windplus S.A., a subsidiary of  EDP Renováveis (79.4%), Repsol S.A. (19.4%) and Principle Power Inc. (1.2%).
The floating wind farm will be the first of its kind, using semi-submersible platforms at depths of 85-100m.
The loan will finance the floating wind farm with the support of the InnovFin Energy Demonstration Project facility, which is funded under the EU's current research and innovation programme Horizon 2020.
In addition, the project will receive EUR 29.9 million from the EU's NER300 programme, and up to EUR 6 million from the Government of Portugal, through the Portuguese Carbon Fund.
"We are delighted to support a project that is a milestone for the renewable energy sector. Through this agreement, the EU bank is financing cutting-edge energy technology that will be deployed in Portugal and that will make it possible to install windfarms in locations that were not feasible until this moment, contributing to Europe's leadership in developing innovative responses to the climate change challenge. This agreement is a good example that demonstration of the EIB's commitment to financing innovation and climate action" said EIB Vice President Emmo Navarro.
Source: Reve
Photo (for illustrative purposes): Agucadoura Wind Farm Prototype/ Untrakdrover/ Wikimedia/ CC BY-SA 3.0
Comments