ABB develops robot for transformer inspections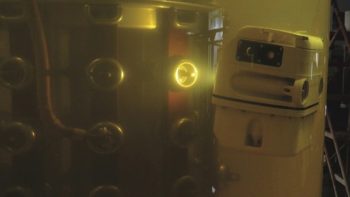 Tech
Posted by Patrick Haddad
ABB has developed the TXplore robot for the internal inspection of oil-filled transformers.
The new validated robot inspection system from ABB, TXplore, has been designed to work inside the complex oil-filled transformer environment, rather than using dangerous and costly human internal inspection.
While non-invasive condition monitoring systems are used to determine possible faults and failures within oil-immersed transformers, there are routine and emergency situations that require internal inspections. These internal inspections come at great risk to the human team and great cost to the´operator. Downtime during human inspection is usually around three days and a highly skilled team must be deployed to enter the hazardous enclosed space of a transformer.
The newly designed inspection system for de-energized transformers only requires two personnel once the unit is prepared: a top-side equipment technician to set up and manage the robot and a robot pilot to navigate, gather data and communicate with experts and customers.
The tetherless robot is shaped and sized to balance ease of navigation with robustness, which allows the submersible robot to inspect all areas of interest such as bushings, leads, tap changer, core top, core support and insulation and more. Additionally, redundant safety systems and extensive thermal and environmental safety testing verify the TXplore system is ready to inspect transformers under a variety of demanding conditions.
With the preservation of mineral oil quality of primary importance, the robot construction is optimized to leave no detectable footprint — either chemical or physical — as it operates within the transformer. The robot's outer shell is made of a high performance plastic that minimizes the risk of electric coupling and structural damage to the transformer while allowing the craft to operate safely in demanding environments at high temperatures.
The first production robots were initially tested and completed trial inspections in February 2018. The robot was introduced to the market at the Hanover Trade Fair and initial orders for pilot trials of the final design were received March 1.
Source: ABB
Photo (for illustrative purposes): TXplore demonstration in oil-filled tank/ ABB Press Shot/ ABB/ With Permission
Comments