Palisades nuclear plant shut down due to transformer failure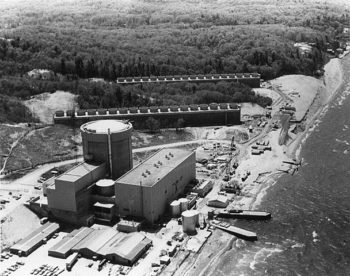 Service
Posted by Patrick Haddad
The Palisades nuclear power plant in southwest Michigan has shut down for repairs ahead of a planned outage due to a transformer fault.
The reactor was shut down on October 13 for work on a degrading control rod drive seal. However, during the maintenance an internal transformer fault occurred, causing several components to lose power.
The Nuclear Regulatory Commission said last week that radioactive water leaked through the seal, but it never reached outside the plant's barriers and that there was no threat to the public. The plant says it remained in a safe and stable condition throughout.
It is not yet known how long the shutdown will last.
The plant is owned by New Orleans-based Entergy Corp., which plans to close it in 2022.
Source: The Detroit News
Photo (for illustrative purposes): Aerial view of Palisades Nuclear Plant in 1974/ Energy.gov/ Wikimedia/ Public Domain
Comments