Siemens and Trafoindo to enter into transformer joint venture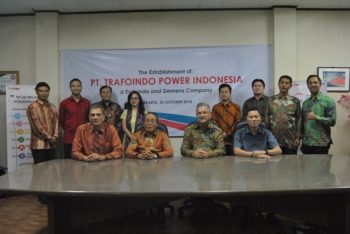 Companies
Posted by Patrick Haddad
Siemens and PT. Trafoindo Prima Perkasa ("Trafoindo"), a privately-owned transformer company based in Jakarta, have agreed to enter into a joint venture for manufacturing of power transformers
The company will be named "PT. Trafoindo Power Indonesia – a Joint Venture between Trafoindo and Siemens Company" and will create as many as 200 jobs in its initial phase. The joint venture will be manufacturing and selling mainly medium power transformers for public utilities, independent power producers, renewable and industrial applications. The production facility will be located at the Trafoindo premises in Jakarta, Indonesia.
Siemens will hold a minority share of 49 percent and Trafoindo will hold a 51 percent stake in the joint venture, which is expected to start production in 2019 with an annual capacity of approximately 200 units.
"Indonesia has a high electrification demand due to a growing population and the ever increasing standard of living which reflect on an unprecedented urbanization and industrialization," says Beatrix Natter, CEO of the Business Unit Transmission Products at Siemens Energy Management Division.
"Together with our valued partner Trafoindo, we are excited to enter into this dynamic market and supply our innovative transformer technologies to the country."
PT. Trafoindo Prima Perkasa (Trafoindo) is an Indonesia's pre-eminent manufacturer of distribution transformers and related products for power distribution.
We are pleased to enter into a joint-cooperation with a reputable partner like Siemens to serve the power transformer market," says Suryono Limputra, President Director of Trafoindo.
Source: Siemens Asia
Photo (for illustrative purposes): Signing of Trafoindo and Siemens/ Siemens Press Release/ Siemens/ With Permission
Comments