President Museveni unveils Uganda's largest transformer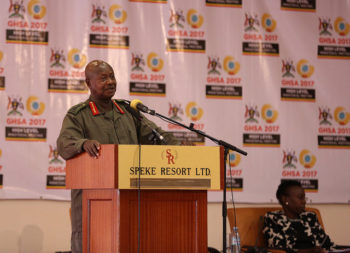 Misc
Posted by Patrick Haddad
Ugandan Presiden Yoweri Museveni has unveiled the country's largest transformer at a plant run by the first private joint venture between Uganda and China.
Established in 2012, Orion Transformers and Electrics began production in 2015 and now produces 1,500 transformers and switch-gears annually at their plant in the central Ugandan district of Mukono.
The plant, which employs 32 locals and 3 Chinese workers, is the only factory producing transformers in the whole country.
"These partnerships are what we need to develop skills. We need them to train our people, if the skills are transferred, then it is a win-win," said Patrick Bitature, former chairman of Uganda Investment Authority.
Factory general manager Liu Hanlin said the factory has trained over 70 local workers since 2015, many of which have left the country for work because of the skills they have gained.
Hou Jianxiong, chairman of Orion Transformers and Electrics Ltd, said the firm hopes to eventually invest 100 million dollars and create 5,000 jobs.
Source: XinhauNet
Photo (for illustrative purposes): Presdent Yoweri Museveni/ CDC Global/ Flickr/ CC BY 2.0
Comments