ABB launches new transformer products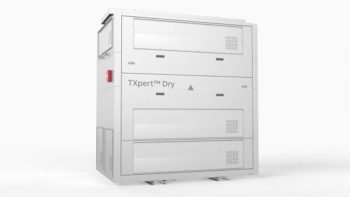 Tech
Posted by Patrick Haddad
ABB has expanded its transformer portfolio with the release of a new range of transformer products.
ABB launched the world's first dry-type (oil free) digital transformer, named the ABB Ability TXpert Dry, and another innovative product called TXpand at its ABB Customer World (ACW) event in Xiamen, China.
The ABB Ability TXpert Dry incorporates digital capability within ABB's proven dry-type transformers. Transformers typically use oil for cooling and insulation but dry-type transformers are designed to work without oil, where the core and the coil are cooled by air and non-flammable solid insulation material. This makes them safer, as the flammability element of oil is eradicated, and also more environmentally friendly. Such transformers are ideally suited for high-risk applications like offshore as well as densely populated areas and sensitive eco-systems.
ABB also announced the launch of its innovative TXpand solution for power transformers, where critical components such as the tank have a rupture-resistant design, to mitigate risks associated with unpredictable failures, offering enhanced safety and lowering environmental impact.
"As the world leader in transformers, we continue to push the technology boundaries increasing safety, reliability, and efficiency " said Laurent Favre, head of ABB's transformers business, a part of the company's Power Grids division. "These latest portfolio additions reiterate our ongoing commitment to innovation as we enable a stronger, smarter and greener grid."
Source: ABB
Photo (for illustrative purposes): ABB Ability TXpert Dry – Outer Unit/ ABB/ ABB Press Release/ With Permission
Comments