New 380/220 kV transformer delivered to Laufenburg substation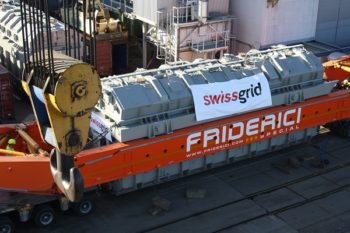 Substations
Posted by Patrick Haddad
The Laufenburg substation has received the delivery of a new 380/220 kV transformer as part of the Swissgrid modernisation project "Strategic Grid 2025".
The new transformer replaced a 380/220 kV transformer which was first installed in 1966 and will increase the output from 600 MVA to 800 MVA. The outdoor switching station installed in the 1960s was replaced in 2017 with a modern gas-insulated indoor switching substation.
The new 800 MVA transformer will be installed next to the existing transformer and equipped with new connections to the 220 and 380 kV plants. Concrete walls surround each pole and provide space for the connections of all the poles. Only three of the four poles are ever in operation at the same time.
Siemens Austria manufactured the four transformer poles at its plant in Weiz and transported by train and ship along the Danube and Rhine rivers until they were transferred to a special transport vehicle in Auhafen in Muttenz. The twenty-axle vehicle transported the approximately 200-tonne poles individually from the port to the Laufenburg substation.
Source: Swissgrid
Photo (for illustrative purposes): Loading of a transformer pole in Auhafen in Muttenz/ Swissgrid/ Swissgrid Press Release/ With Permission
Comments