169 tonne super grid transformer delivered to Lovedean Substation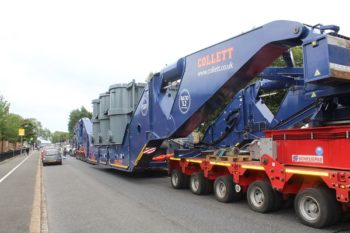 Substations
Posted by Patrick Haddad
British firm Collett & Sons have delivered a 169-tonne super grid transformer from Portsmouth International to Lovedean Substation.
The project involved the Collett Projects and Heavy Lift Teams, who undertook all the pre-planning works, the discharging of the Super Grid Transformer from the vessel at Portsmouth International Port right through to final delivery at the Lovedean National Grid Substation. This also included offload and install on site by the Heavy Lift Team utilising their specialist hydraulic jacking & skidding equipment.
The cargo travelled on a 66m long, 5.3m wide loaded girder bridge across the entire 12 mile distance from Portsmouth International Port to Lovedean Substation.
Once the girder bridge and jacking & skidding operations were complete and the Super Grid Transformer was successfully positioned, Collett & Sons then turned to the 10 40ft containers of ancillaries required for the project.
With each container arriving at Southampton, Collett assumed full responsibility for all cargo, delivering complete transport logistics, including de-vanning and storage facilities, to ensure the safe and timely delivery of all the necessary ancillaries to the National Grid Site.
Source: Press Release
Photo (for illustrative purposes): Delivering Lovedean/ Collett & Sons/Press Release/  With Permission
Comments