CWIEME AMERICAS 2019 LAUNCHED AT SUCCESSFUL EVENT IN CHICAGO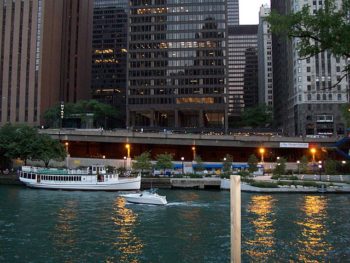 Misc
Posted by Patrick Haddad
Leading brands such as Zunum Aero, Tesla, and Orchid Monroe, as well as exhibitors and attendees of CWIEME, gathered at the Hyatt Regency Hotel Chicago on November 15 to celebrate the relaunch of the unmatched conference and trade show for electric motor, generator, and transformer manufacturing in the Americas.
The new owner ITE Group has rebranded CWIEME Americas to reflect the wider appeal of the event for players from the United States, Canada and Latin America in the automotive, construction, HVAC and power generation industries. The first event under the new name will take place in Chicago from September 17-18, 2019.
CWIEME Americas relaunch event offered a taste of what is to come for the North American electrical manufacturing industries in 2019. Attendees were excited to hear about ITE Group's plans for the transformation of CWIEME Chicago, which includes significant investments with the aim of supporting manufacturers and suppliers to grow over the long term. Attendees included United Technologies Aerospace Systems, Schaeffler Group USA, Ramco Electric Motors, and Woodward, to name a few.
The relaunch event boasted a strong line-up of speakers, who discussed the increasing demand for power generation component supply, changes on the electric motor industry and the future of transportation. The line-up of speakers included Saqib Saeed, principal analyst of Power Technology Research; Daniel Saban, chief engineer of Zunum Aero; Anderson Pacheco, staff manufacturing engineer of Tesla; Manoj Karwa, vice president of CleanWave Technologies; Ghanshyam Shrestha, senior principal scientist of ABB; and Keith Cornacchia, vice president of Orchid Monroe. They provided expert guidance on the latest technology trends, business analysis, and market intelligence impacting electric machine design and production.
The panels and presentations were followed by a cocktail reception, which provided a great setting for one-on-one discussions and networking. It was also an opportunity for attendees to meet CWIEME Americas Director Jamie Reesby, who will be assisting in the planning for CWIEME Americas 2019.
"We were excited to have such an enthusiastic and engaged audience at the relaunch event," said Reesby. "As 2019 approaches the rebranding of CWIEME Americas and the establishment of a dedicated team is our main focus. This will allow us to hone in on what's truly important to both our exhibitors and attendees, so that we can provide the most valuable trade show possible."
Source: Press Release
Photo (for illustrative purposes): Hyatt Regency Hotel, Chicago/ An Errant Knight/ Wikimedia/ CC BY-SA 4.0
Comments