Collett & Sons deliver Super Grid Transformer to Willenhall Substation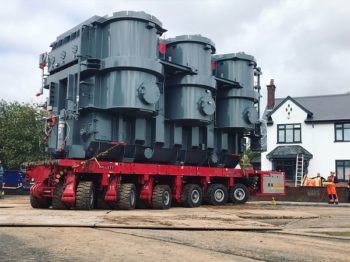 Substations
Posted by Patrick Haddad
UK logistics firm Collett & Sons has completed the delivery of a Super Grid Transformer to Willenhall Substation.
The 170 Tonne transformer was secured into a girder bridge trailer for the journey, which was part of a 66m long combination. Travelling under police escort at around 10-15 mph, the load began it's journey at the Port of Ellesmere and ended at Willenhall substation.
Due to the restricted access to the Substation, the team began transhipment operations to discharge the transformer from the girder bridge to an awaiting 6 axle SPMT, with an adapted operating speed to suit the axle loads.  Once loaded, they hydraulically lowered the SPMT and the transformer to a height of 5.6m allowing the cargo to be driven on to the site before maneuvering into storage position and lowering onto support stools.
The delivery marked the completion of three National Grid projects in recent weeks, including deliveries to Lovedean and Cellarhead substations.
Source: Press Release
Photo (for illustrative purposes): Collett & Sons delivering Willenhall/ Collett & Sons/ With Permission
Comments