GE Power and TransnetBW to build 380 kV substation in Southwest Germany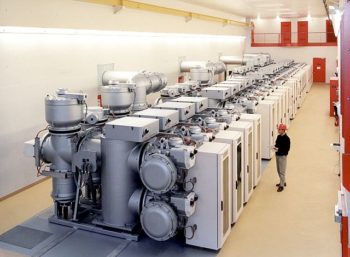 Substations
Posted by Patrick Haddad
GE Power's Grid Solutions business and the transmission system operator TransnetBW announced that they have signed a contract for a turnkey solution to build a 380 kV substation in Eichstetten, Baden-Württemburg.
TransnetBW's decision to transition from AIS (air-insulated substation) to GE's GIS (gas-insulated substation) solution will result in a reduced substation footprint, increased capacity and a reduced environmental impact.
GE's Grid Solutions team will design, produce, supply and commission 22 bays of 400 kV GIS with associated buildings and control cabinets.
Germany's energy network is in the midst of a transformation. Increasing renewables integration, the move towards decarbonization, sector-coupling initiatives as well as more cross-border electricity flows are transforming the energy landscape today and posing new challenges for Germany's transmission grid.
"As a result of Germany's energy transition, the demands placed on our grid infrastructure are continually increasing. This especially applies to the Badische Rheinschiene connection. The new construction of the Eichstetten substation is an important building block, equipping this connection to address the already existing and increasingly high load flows, which we expect will continue to rise in the future. We chose GE's solution given the complexity of this overall project. Moreover, this grid solution saves us needed space by using a gas-insulated substation – and a reduced footprint is a very important parameter for our construction projects," said Dr. Werner Götz, Managing Director of TransnetBW GmbH.
"TransnetBW's expansion plans for Germany's electricity grid are intended to create a "breathing" system that can balance out the fluctuating infeed from renewable energy sources. We are proud that TransnetBW has selected GE's Grid Solutions to complete this complex refurbishment project," said Gerhard Seyrling, General Manager Europe, Russia & CIS for GE Power's Grid Solutions business. "For our team, this agreement represents not only our continued collaboration on outstanding projects like these, but also our ongoing efforts to adapt to an evolving energy landscape and implement key regional infrastructure that supports reliable, stable and efficient energy transmission."
Source: GE Grid Solutions
Photo (for illustrative purposes): GIS in Verbois, Switzerland/ ABB AG/ Wikimedia/ CC BY-SA 2.0 DE
Comments