Ganz Transformers Marks 145 Years in Electrotechnical Innovation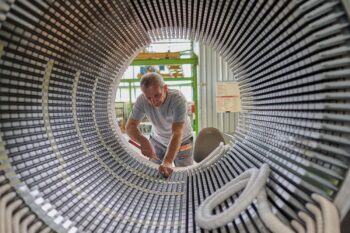 Companies
Posted by Staff
Ganz Transformers and Electric Rotating Machines Ltd. is commemorating 145 years since the establishment of the Ganz Electrotechnical Division. Established in 1878 in Budapest, the division quickly evolved into a central pillar of 19th-century Central European electrification, pioneering innovations like arc lamps, self-excited AC generators, and the foundational closed iron-core transformer in 1885.
By the early 20th century, Ganz was at the forefront of electrifying Europe, from power plants in Italy and Croatia to Budapest's public transport. Fast forward to the 21st century, the company has heralded global firsts, including the production of the world's first ester-filled 123kV transformer.
After a reorganization in the wake of liquidation proceedings against its predecessor, CG Electric Systems Hungary Ltd., Ganz, now wholly Hungarian-owned, has reclaimed its leadership status in the energy sector. With over 350 employees, the company reported a turnover of €35.4 million in the first half of 2023. Today, Ganz is not only reviving its rich history but also shaping the future of energy with its focus on green transformation and sustainable operations.
Comments