Power distribution system of Belarusian NPP complete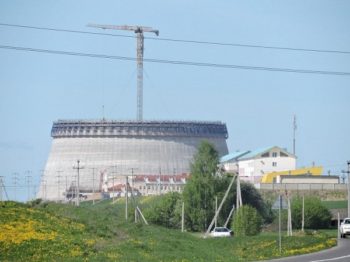 Misc
Posted by Patrick Haddad
The power distribution system of Belarusian Nuclear Power Plant (NPP) has been completed and connected, according to Energy Minister Viktor Karankevich.
The project entailed the construction of more than 1.000 km of 330 kV overhead power lines and the reconstruction of about 700 km of existing 110-330 kV overhead lines. There was also a reconstruction of four large substations and a new 330 kV substation, "Postavy", was also built.
"A large-scale project on the distribution of power and communication of Belarusian NPP with the power system has been completed. By its significance, it has no analogues on the territory of Belarus," said Energy Minister Viktor Karenkevich.
In order to further integrate the nuclear power plant into the power system at the Belenergo facilities, they will continue to build peak-reserve sources and electric boilers with a total capacity of about 800 MW and 916 MW, respectively.
"These measures are necessary to ensure reliable and uninterrupted operation of the power system after the commissioning of Belarusian nuclear power plant," said the minister.
The power distribution system was built under a contract for around $340 million between RUE Grodnoenergo and the North China Electric Power Project Company at the Chinese Electric Power Engineering and Consulting Corporation. Financing of 95% of the project cost was provided at the expense of a soft loan from the Export-Import Bank of China, with 5% coming from RUE Grodnoenergo.
Belarusian NPP with two VVER-1200 reactors with a total capacity of 2400 MW is being built according to the Russian project near Ostrovets (Grodno oblast). The first power unit is scheduled to be commissioned in 2019, the second – in 2020.
Source: Belaes
Photo (for illustrative purposes): Belarusian NPP construction (2015) / Stelmach Alexander / Wikimedia / CC BY-SA 3.0
Comments