Con Ed: New York 'transformer explosion' actually an arc flash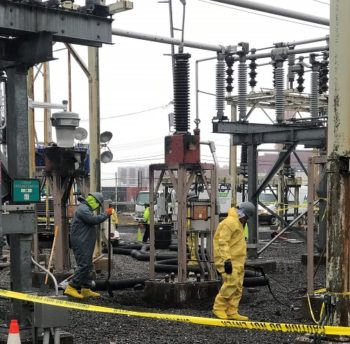 Misc
Posted by Patrick Haddad
Con Edison has released a statement debunking reports which claim that the recent electrical disturbance over New York's skyline was caused by a transformer, and have instead attributed it to an arc flash.
An incident occurred at a Con Ed facility in Queens, New York on December 27th , causing bright blue flashes which light up the early morning sky. LaGuardia Airport lost power and had to rely on emergency power, causing many inbound flights to be put on holding patterns or even to be diverted.
Most reports, including those put out by the NYPD, attributed the striking display to a transformer explosion. Con Ed has put out a statement refuting those claims, saying " (an) electrical fault on a section of 138,000-volt equipment in one of our Astoria substations caused a transmission disturbance and a sustained electrical arc flash, creating the blue light people witnessed".
Last night's electrical fault caused a sustained electrical arc flash & transmission disturbance. There were no injuries and all the power lines serving the area are stable. We apologize for the disruption to customers. Photo: Wall Street Journal. #Queens #Astoria pic.twitter.com/c6chBF4BFL

— Con Edison (@ConEdison) December 28, 2018
An arc flash is a short circuit which occurs when electricity jumps a gap between two parts of a circuit, causing a spark to ionize the air. This results in a release of heat and light which does not necessarily damage the transformer.
The equipment that malfunctioned is associated with voltage monitoring within the substation.
Con Ed reported no injuries and said that all power lines serving the area are stable.
Photo (for illustrative purposes): Con Edison workers near the equipment that failed at the substation in Astoria/ Con Ed Press Statement/ Con Ed / With Permission
Comments