Laos to complete 12 hydropower dam projects in 2019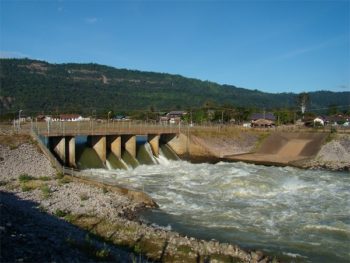 Misc
Posted by Patrick Haddad
The Lao Government has said it intends to complete 12 hydropower dam projects in 2019.
The 12 hydropower dams will have a total capacity of 1,950 MW. According to a story run by the Socio-Economic Newspaper of Laos, 80% of electricity produced by the plants, 1,570 MW, will be exported to Thailand. This leaves about 384 MW for domestic consumption.
In 2019, Laos aims to produce about 33.874 billion kWh of power worth nearly $2 billion, of which about 25,625 million kWh will be sold abroad.
Minister of Energy and Mines Khammani Inthilath, Laos has set up a centre for dam safety management and launched a plan to develop transmission lines. Three power transmission projects are expected to finish in 2019, along with three further transformer stations.
According to the minister, Laos currently has 61 power production facilities with a total output of 7,200 MW, including 53 hydropower plants, one thermal power plant, two alternative power stations and five solar power plants.
Source: Vietnam Plus
Photo (for illustrative purposes): Theun Hinboun Hydropower, Laos / Tango7174 / Wikimedia / CC BY-SA 4.0
Comments