Virgin Islands to provide transformers to aid Typhoon stricken Mariana Islands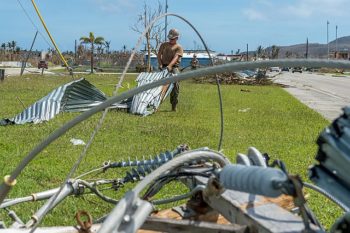 Misc
Posted by Patrick Haddad
The Virgin Islands Water And Power Authority (WAPA) has approved the sale of excess power transformers, as well as other equipment, in order to assist in the restoration of power to residents of the Northern Mariana Islands.
Super Typhoon Yutu ripped through the Mariana Islands in October 2018, killing several people and causing structural damage to buildings. The islands of Tinian and Saipan were left entirely without electricity.
WAPA's approval will facilitate the sale of 675 excess transformers at an estimated cost of $1.3 million dollars plus administrative fees. Also approved was the sale of excess material and supplies usually used to redevelop an electric grid, such as pole hardware, conductors, insulators and pot heads.
American Wire Group, a WAPA supply vendor, will purchase the equipment and provide them to the Northern Mariana Islands to help aid the restoration. The Federal Emergency Management Agency (FEMA) has approved the sale of the materials and transformers because the assets were initially purchased by WAPA and reimbursed by the federal government during the post-hurricane restoration. The proceeds from the sale of the excess equipment will be returned to FEMA.
Sources: The St.Croix Source / Wikipedia
Photo (for illustrative purposes): A Seabee removed debris on Tinian following Typhoon Yutu / U.S. Navy / Wikimedia / CC BY 2.0
Comments