Large transformer fire at RUMO substation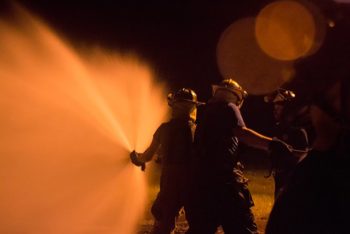 Substations
Posted by Patrick Haddad
A large fire has destroyed a transformer at the RUMO plant substation in Russia.
The fire was reported at around 02:00 on February 6th at the RUMO plant in Nizhny Novgorod, according to Main Directorate of the Ministry of Emergency Situations of Russia in the Nizhny Novgorod Region.
When rescuers arrived at the scene, one transformer was already burning and transformer oil was seen to be boiling.
"As a result of a fire, oil burned, a transformer burned on an area of 50 square meters. On fire extinguishing and liquidation of its consequences, 88 people of the Emergencies Ministry personnel and 25 units of special equipment were involved" said the Ministry of Emergency Situations of Russia for the region."
The entire plant, which produces diesel engines for cargo ships, was left without electricity. The cause of the fire has been attributed to a violation of the rules of technical operation of electrical equipment.
Source: Progorodnn
Photo (for illustrative purposes): Firefighters training at night with a combination nozzle / Jess Mann / Wikimedia / CC BY-SA 4.0
Comments