M&I Materials opens ester transformer fluid manufacturing plant in India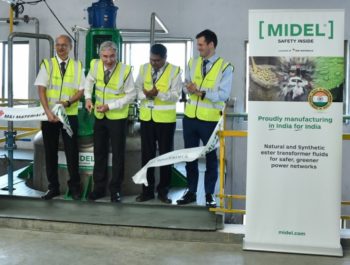 Companies
Posted by Staff
M&I Materials has opened its ester transformer fluid manufacturing plant and state-of-the-art laboratory near Mumbai, India. The move creates a high quality, local supply chain of the company's MIDEL ester fluids for utilities and transformer manufacturers across the country.
The operation, based in Maharashtra, is the result of a new strategic alliance with ACME Synthetic Chemicals and will help Indian utilities and OEMs to deliver safer, greener transformers and substations. Ester transformer fluids have a much higher fire point than the conventional transformer fluid – mineral oil – and are far more environmentally friendly. The company has had a presence in India, providing product and technical support, for almost a decade.
Speaking at the opening ceremony Giles Salt, CEO of M&I Materials commented: "We are delighted to open our MIDEL manufacturing facility. This marks the latest development in our global expansion, clearly demonstrating our commitment to supporting India's utility sector and transformer manufacturers."
Raw materials for the manufacturing of the fluids will be sourced from locally grown soybean and rapeseed crops, providing new opportunities for local farmers and their families, in addition to creating jobs at the factory.
Photo: Midel
Comments