Siemens scoops major Iraq power contracts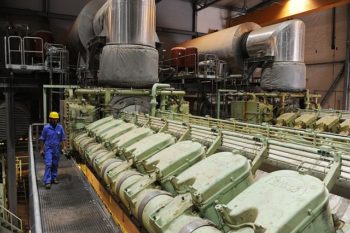 Companies
Posted by Patrick Haddad
German engineering group Siemens has won a series of orders worth around €700 million (nearly $800 million) to help rebuild Iraq's national grid in an ongoing competition with American rival General Electric (GE).
The deal was announced by Siemens CEO Joe Kaeser on Tuesday in Berlin. He signed an "Implementation Agreement" with the Iraqi government which lays out a roadmap for a comprehensive recovery of the energy sector in Iraq. The Iraqi infrastructure was mostly destroyed during the Iraq War, which began in 2003 and was followed by years of conflict.
The agreement includes the construction of a 500-megawatt gas-fired power plant in Zubaidiya. "In addition, contracts were awarded for the modernization of 40 gas turbines with cooling systems and the installation of thirteen 132-kilovolt substations and 34 transformers."The construction work should be visible by the summer of next year, said a spokesman.
Iraqi PM Abdel Mahdi said the roadmap consists of a total of four stages totalling around $ 14 billion (€ 12.5 billion). Siemens has a good chance to win the contract for "a large part of these projects."
The US government is still putting pressure on the Iraqi government to hand the remaining contracts over to GE but German Chancellor Angela Merkel has also helped Siemens in securing the contracts, which will be vital for the company's Austrian division.
Source: Industrie Magazin
Photo (for illustrative purposes): Power plant in Samawah, Iraq / Brendan Stephans, US Army / Wikimedia / Public Domain
Comments