Kazakh president visits transformer factory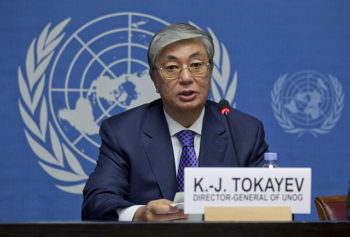 Misc
Posted by Patrick Haddad
Kazakhstan's president Kassym-Jomart Tokayev has visited the Uralsk Transformer Plant, which was launched as part of the National Program of Industrial and Innovative Development.
The plant, which produces 10,000 transformers per annum and employs 200 people, closely cooperates with the local educational institutions with regard to the dual education system. There, Kassym-Jomart Tokayev was provided with information about the operation of the region's enterprises producing furniture, food, as well as construction and light-industry companies.
"It is necessary to continue work on the diversification of the economy, involving entrepreneurs in the Economy of Simple Things program. Presently, the Government is actively working along this avenue. The regional administration should ramp up production within the framework of this program," the Head of State underlined.
Source: Kazinform
Photo (for illustrative purposes): Kassym-Jomart Tokayev / U.S. Mission in Geneva / Wikimedia / Public Domain
Comments