Transformer damaged at Thumbay dam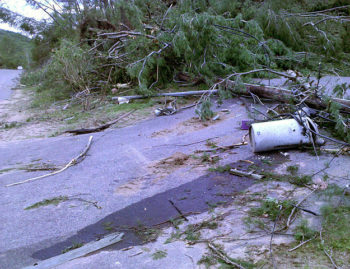 Misc
Posted by Patrick Haddad
A transformer at Thumbay dam in India has been damaged after being struck by lightning.
The transformer that provides power to plant No. 2 at Thumbay that supplies water to the ground level main water reservoir at Padil was hit by lightning and heavy rain. Emergency repairs have been undertaken but is not yet complete.
As a temporary solution, the city area and Suratkal have been split into two divisions. These divisions will receive their water supply on alternate days, said the city corporation commissioner in a press release.
Pumping from pits is occurring in five places in order to help mitigate water shortages.
Source: Daijiworld
Photo (for illustrative purposes): Electrical transformer damaged by tornado / Massachusetts Department of Environmental Protection / Wikimedia / CC BY 2.0
Comments