GE: World's biggest offshore wind turbine heading to the UK for testing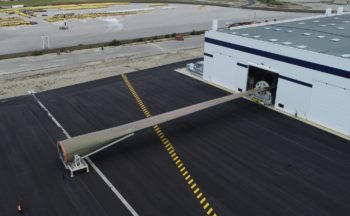 Companies
Posted by Staff
GE Renewable Energy has announced that the 107-metre long blade will be shipped to the UK as part of an advanced technology testing program that will focus on enhancing the Haliade-X platform before it enters into serial production in 2021.
The Haliade-X nacelle comparable to six Double-Decker London buses, along with the – according to GE – world's longest blade will be transported from GE's production facilities in Saint-Nazaire and Cherbourg (France) to ORE Catapult's testing facilities in Blyth in the North East of England in the months to come.
The Haliade-X 12 MW nacelle will undergo a program that will replicate real-world operational conditions to reduce the time required to validate performance and reliability. In addition, the 107-meter LM Wind Power blade will undergo a full range of advanced testing procedures (including static and fatigue) to fully demonstrate the blade's ability to withstand peak wind conditions and to simulate the blade's readiness for years of operation at sea.
The Haliade-X 12 MW is a multi-million investment and will contribute to reducing the cost of offshore wind energy in order to make it a more competitive source of clean and renewable energy. One Haliade-X 12 MW turbine can generate up to 67 GWh* of gross annual energy production, provide enough clean energy to power 16,000* European households and save up to 42 million metric tons of CO2, which is the equivalent of the emissions generated by 9,000 vehicles in one year.
Source, photo: GE
Comments