Construction of Nezhinskaya substation to be completed this year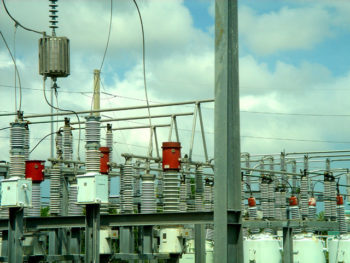 Substations
Posted by Patrick Haddad
The press agency of IOOO Slavkaliy has announced that construction of the Nezhinskaya 110/10 kV stepdown substation and its connection to the Kaliynaya substation should be finished this year.
The resulting source of energy will keep the future potassium complex supplied with electricity permanently. Slavkaliy continues building the substations. A number of measures to provide the construction camp with a temporary source of electricity were finished in 2018.
The building to house the control room for the substations was erected as well as the fourth section of the switchgear assembly building, cable conduits and overpasses. The Nezhinskaya substation was connected to the branch line between the 110/10kV Kaliynaya substation and the Sorochi substation. Construction and installation work at the Nezhinskaya substation continues on schedule.
Piles are being driven into the ground as part of the construction of a modular building for a gas-insulated switchgear assembly, the first, second, and third sections of the indoor switchgear assembly building, a transformer plant. The installation of metal frames for the foundation of the facilities is in progress. The necessary materials and equipment are supposed to be delivered within one month.
Electricity will be fed to the Nezhinskaya substation from the Kaliynaya substation using a 110kV overhead high-voltage power line. Slavkaliy has done 50% of the work required to build the line. Over 90 utility poles have been erected. The workers will get down to putting the cables in place this month.
Apart from that, the reconstruction of the section where the new high-voltage power line crosses the existing 330kV Kaliynaya-Mozyr power line has been finished. The Nezhinsky mining and processing factory based on the Starobinskoye potash salts deposit will be the second enterprise in Belarus to mine potash salts and make potash fertilizers. It will be able to make up to 2 million tonnes of potassium chloride per annum.
The investment project provides for building one mining facility in addition to a processing plant, a gas turbine power plant for proprietary needs, railway infrastructure, automobile roads, housing infrastructure, and other kinds. IOOO Slavkaliy is in charge of implementing the project. The company is part of Mikhail Gutseriyev's Safmar Group.
Source: Belta
Photo (for illustrative purposes): Substation / Scott / Flickr / CC BY-ND 2.0
Comments