Siemens to build HVDC link between Great Britain and Denmark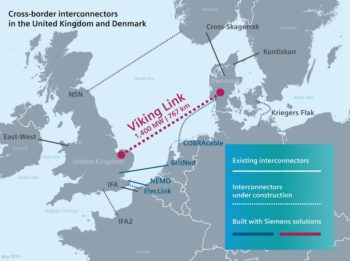 Companies
Posted by Staff
Siemens has announced it has been awarded a contract to deliver two converter stations for the first high-voltage direct-current (HVDC) link between Great Britain and Denmark.
Viking Link will enable the exchange of electricity up to 1,400 megawatts (MW) to provide increased power-supply reliability and security to consumers in both countries. By allowing transmission to flow in both directions, Viking Link will support the integration of renewable energy sources into the power grid.
The interconnector is being jointly developed by National Grid Ventures (Great Britain) and Energinet (Denmark) via National Grid Viking Link Ltd. and Energinet Eltransmission A/S. Viking Link is scheduled to begin commercial operation at the end of 2023. 
Comments