40 new substations to be built in Dhaka megaproject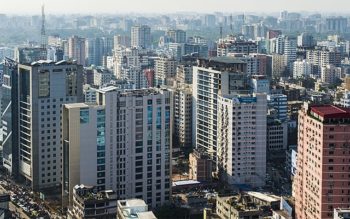 Substations
Posted by Patrick Haddad
The Dhaka Power Distribution Company Ltd (DPDC) will implement a mega project to build 40 substations in the Bangladeshi capital.
The scheme will be funded by China to the tune of around $2.5 billion and will be executed by Tabian Electric Apparatus (TBEA) Co. Ltd, a Chinese government-selected contractor.
Under the scheme, a total of 40 substations will be set up in the city while overhead cables of Hatirjheel Lake and Dhanmondi residential area will be laid underground in next 5 years.
The DPDC has signed a contract to appoint a joint venture consultant of Finland and Bangladesh—JV of Hifab & ECBL— to provide the consultancy services to implement the project.
"We have to move forward with innovative ideas coming out of the box as we plan to implement mega project," said state minister for power, energy and mineral resources Nasrul Hamid.
He also termed the project as a historic one for Dhaka as funding for this project was signed during prime minister Sheikh Hasina's visit to China in July last which was witnessed by the Chinese president.
Nasrul Hamid said this project will play a vital role to modernise and digitised the power distribution network of Dhaka city as some substation will be constructed underground saving the land.
"These substations will have commercial and residential buildings on them like those were built in Tokyo city of Japan", he said.
He said gradually all the overhead cables in Dhaka and other big cities will be installed underground.
DPDC managing director Bikash Dewan informed the function that of the planned substations, 14 will be of 123/33/11 kV and 26 will be of 33/11 kV capacity under the project titled "Expansion and Strengthening of Power System Network under DPDC area.
The capacity of eight existing 132/33 kV and 4 33/11 kV substations will be enhanced under the project, he said, adding a modern SCADA will also be set up with the funds of the project.
Once the project will be implemented, the capacity of 132 kV level will go up to 5330 MVA and 33 kV level to 4680 MVA, Bikash Dewan mentioned.
Source: Prothom Alo
Photo (for illustrative purposes): Paltan- Segunbagicha Skyline, Dhaka / ASaber91 / Wikimedia / CC BY 2.0
Comments