DTEK Dnipro installs 31 transformers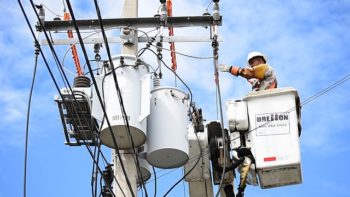 Misc
Posted by Patrick Haddad
Ukranian utility DTEK Dnipro Power Grids has installed 31 new transformers, helping to resolve over 3000 disruptions to the power supply since the beginning of the year.
Power engineers worked quickly to respond to requests from residents and quickly eliminate any interruptions in electricity. Since the beginning of the year, 3357 applications with complaints about accidents have been received from the residents of Nikopol in the call centre. Including – due to network overload due to residents exceeding the declared power limits. All of them were immediately eliminated by the forces of field trips and repair teams.
In 2019, in order to improve the quality of electricity supply for residents of Nikopol, 31 power transformers have already been replaced by energy, 29 more will be installed before the end of the year. They also repaired 9 kilometres of 0.4 kW air networks, replaced two complete transformer substations (KTP) and installed two new ones, which will reduce the length of street networks and relieve power lines. By the end of the year, they plan to replace an additional 14 KTPs.
"DTEK Dnipro Electric Networks continues the program on strengthening and modernizing the networks and electrical equipment of Nikopol. We are doing everything in our power to provide residents with reliable electricity during the heating season," says Andrey Tereshchuk, Director General of DTEK Dnipro Electric Networks.
Source: Most Dnepro
Photo (for illustrative purposes): Electrician worker / alcangel144 / Pixabay / Free for commercial use
Comments