Puerto Rico power plant damaged by earthquakes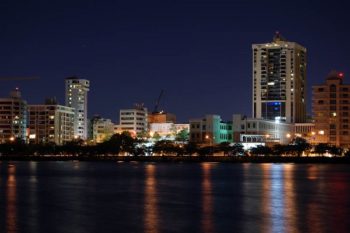 Misc
Posted by Patrick Haddad
Puerto Rico's Costa Sur Power Plant has been seriously damaged after being struck by a series of earthquakes.
The Costa Sur Power Plant, which provides roughly a quarter of the island's power, experienced "destruction on a grand scale," said José Ortiz, executive director of the Puerto Rico Electric Power Authority at a Thursday news conference. The plant is located in Guayanilla, a southern municipality close to the 6.4-magnitude earthquake and subsequent aftershocks that jolted Puerto Rico before dawn Tuesday.
Mr. Ortiz said repairing or replacing the Costa Sur plant could take a year or more. As a result, the utility is seeking to compensate for that lost power generation by firing up other plants. The Costa Sur plant, constructed in 1973, is one of four major power stations on the island.
As of midday Thursday, about 50% of Puerto Rico had electricity—up from about a third Wednesday, Mr. Ortiz said. He said power plants will continue to be brought back into service at a rate of about one a day through Sunday. If that schedule holds, power should be restored to the entire island by the end of the weekend.
Mr. Ortiz said the company has been restoring power effectively despite the damage to its plants.
He cautioned that the overall system will remain unstable for several weeks until completion of an important job that predates the earthquakes. The electric utility needs to install a new transformer in one unit of the Aguirre power plant in Salinas, a job that should be completed in early February, he said.
The new electrical woes come more than two years after Hurricane Maria plunged much of Puerto Rico into darkness for months, requiring billions of dollars to repair and workers from around the country to assist in replacing toppled power lines and fixing aging power plants. The island is still recovering from the disaster, which resulted in an estimated 3,000 deaths and tens of billions of dollars in damage. The Puerto Rico Electric Power Authority has been operating under bankruptcy protection since 2017.
The region has been experiencing hundreds of earthquakes since late December. The most powerful tremors occurred earlier this week, killing one person and damaging roads, homes and infrastructure. Puerto Rico's emergency management agency said Thursday its initial estimates showed that around 300 homes suffered some sort of damage.
Aftershocks hit the region again Thursday, according to the U.S. Geological Survey, and will likely continue for weeks. There is a 3% chance one or more aftershocks could be stronger than the 6.4-magnitude earthquake, the USGS estimated Thursday.
Gov. Wanda Vázquez has declared a state of emergency, and on Wednesday, U.S. Health and Human Services Secretary Alex. M. Azar II declared a public health emergency.
"We are concerned about potential impacts of this week's earthquakes on the lives of our fellow citizens in Puerto Rico," Mr. Azar said Wednesday. "We have worked closely with the territory's health and human services authorities on disaster recovery, and will continue to do everything we can to help ensure the health and well-being of people across the island."
Source: Wall Street Journal
Photo (for illustrative purposes): Condado Beach at night / James Willamor / Wikimedia / CC BY-SA 2.0
Comments