Siemens Q1 results show "solid" Gas and Power order intake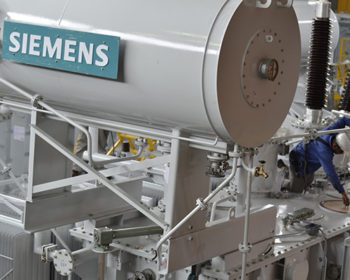 Companies
Posted by Patrick Haddad
Siemens' Gas and Power arm has reported a slight increase in revenue for the first quarter of the financial year.
The Gas and Power arm reported:
"Solid order intake, down from a high basis of comparison due to a higher volume from large orders in Q1 FY 2019 which included several large contracts in the transmission and services businesses in the reporting region Europe, C.I.S., Africa, Middle East (Europe/CAME). Revenue up slightly as clear growth in the transmission business was mostly offset by decreases in the other businesses"
"As previously announced, we plan to carve out Gas and Power and to contribute our 59% stake in Siemens Gamesa Renewable Energy (SGRE) to create a new entity, Siemens Energy. For this entity, we plan a spin-off and public listing before the end of fiscal 2020, with Siemens Energy becoming part of discontinued operations prior to the spin-off"

Do you want to feel the heartbeat of the global power transformer industry? Fygen provides you with all necessary intelligence for a truly unique real-time picture. Watch the trends quarterly for order intake and sales from more than 35 transformer companies globally. See how transformer exports and imports between China, USA and EU are changing. Explore the complete industry worldwide in Fygen's factory database, which gets updated with news and developments weekly.
Source: Siemens
Photo (for illustrative purposes): Siemens
Comments