SGB-SMIT VPI transformers certified in record time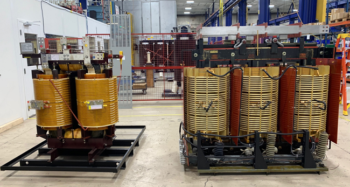 Tech
Posted by Patrick Haddad
SGB-SMIT has acquired UL-certification for their VPI (Vacuum Pressure Impregnated) – triangular core transformer technology in record time.
The tech is designed for moderate to harsh environments and can be used indoor (NEMA 1) or outdoor (NEMA 3R) applications. Typical usage in most commercial and industrial applications.
Advancements in manufacturing techniques and the increased performance demands have paved the way for making this cutting-edge triangular wound technology possible.
The symmetrical structure is capable of producing great savings and benefits in areas such as footprint, weight, reduction in sound levels, harmonic content, stray magnetic fields, improved efficiency levels, and life expectancy extension when comparing a conventional (3-legged stacked core) against asymmetrical triangular (wound core).
Regarding the efficiency levels, SGB-SMIT were able to confirm a reduction of 20% in no-load and 5% in load losses compared to traditional technologies.
Compact core VPI transformers can be built up to 3.000 kVA with primary voltages from 600 V – 27 kV and secondary voltages up to 1000 V with an insulation system of 220° C
The certification process was initiated on October 21 2019, and formally completed on February 2 2020. The full certification process could be accomplished in only 14 weeks on the very first units that were manufactured at the SGB USA Tallmadge site.
Source: SGB-SMIT
Photo (for illustrative purposes): Image courtesy of SGB-SMIT
Comments