Trafo Power Solutions to provide dry-type transformers for Saldanha Bay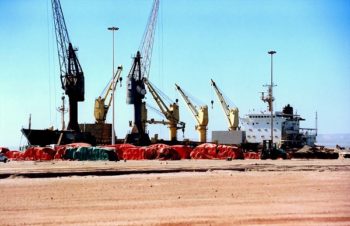 Misc
Posted by Patrick Haddad
Trafo Power Solutions has won a contract to provide dry-type transformers as part of Transnet's Saldanha Bay upgrade.
The company is supplying specialised transformers for the Tippler 3 project at the iron ore load-out station. Factory-acceptance testing was completed in December 2019, according to Trafo Power Solutions managing director David Claassen.
Trafo Power Solutions' contract was for the design, supply and commissioning of five dry-type transformers. There are two 1 000 kVA units and a 3 150 kVA unit, both stepping down from 11 kV to 400 V. The other two units 3 500 kVA and 4 500 kVA capacity respectively, taking 11 kV to 3,3 kV.
"The enclosure design also incorporates cable boxes and Type C, totally enclosed plug-in bushings for the terminations," he says. "This provides a boot covering which is touch-potential safe, and also provides for efficient plug-and-play installation."
"The units will provide the medium-voltage supply for the Tippler 3 project and its associated infrastructure, including equipment like conveyors," he says. "All the transformers will be supplying non-linear load to a certain extent, so they have been designed with a K-factor of four."
The K-factor is a measure of a transformer's ability to withstand the heating effects of non-sinusoidal harmonic currents created by electronic equipment. The higher the K-factor, the greater the harmonic heating effects.
Designed locally by Trafo Power Solutions, these dry-type transformers are manufactured in Italy by strategic partners TMC Transformers, experts in cast resin transformer technology. All products are routinely factory-tested according to IEC standards, but type-testing and special testing can also be conducted.
"The standard applicable to dry-type power transformers is IEC 60076-11," Claassen says. "TMC's advanced laboratory facilities allow us to conduct the full range of tests in-house, in accordance with what these standards and whatever other requirements are designated by the customer."
At Saldanha, Trafo Power Solutions is also responsible for building auxiliary protection and control panels, which it locates remotely from the transformers. These include temperature control sensors that communicate with the port's broader control and monitoring network.
Source: Cape Business News
Photo (for illustrative purposes): Bulker loading steel at Saldanha Bay / Bob Adams / Flickr / CC BY-SA 2.0
Comments