SGB-SMIT change over to LED lights in assembly hall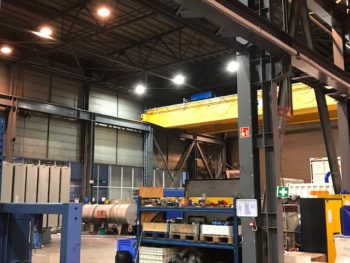 Misc
Posted by Patrick Haddad
SGB-SMIT have switched their assembly hall lighting from gas discharge lamps to more cost-effective LED lights
STS, the service department of Royal SMIT in Nijmegen, the Netherlands, has taken care of the lighting quality at the workplaces in the assembly hall.
The basis for the planning was the European standard DIN-EN 12464-1.2011 (in the Netherlands NEN instead of DIN). It specifies the luminous intensity (in lux) that should "arrive" at different workplaces. In addition, correct ergonomic lighting design also involves aspects such as colour temperature, avoidance of glare and flicker, and direction of light.
In the course of the planning it quickly became clear that the previous lamps with gas discharge technology were to be replaced by LED technology. This also brought another aspect into play: the LED successors require significantly less energy than the previous lamp technology, with better luminous efficacy. Which makes the decision sensible also from an economic point of view and, even more so, from an ecological point of view.
"For many applications, gas discharge lamps have been the adequate light sources up to now", says Mark Kobus of STS, "but in recent years LED lamps have again made enormous progress in development.
The replacement of the total of 65 gas discharge lamps is currently taking place successively – with the effect that the difference between the previous lamps and their LED successors can be seen directly. "In a direct comparison, what the supplier has announced to us is even more impressive," Mark Kobus and his staff are pleased to say. "More safety, a more pleasant environment and lower energy consumption – this investment pays off in several ways".
Source: SGB-SMIT
Photo (for illustrative purposes): Image courtesy of SGB-SMIT
Comments