SGB-SMIT "Licensing & Consulting" department works with Argentinian transformer manufacturers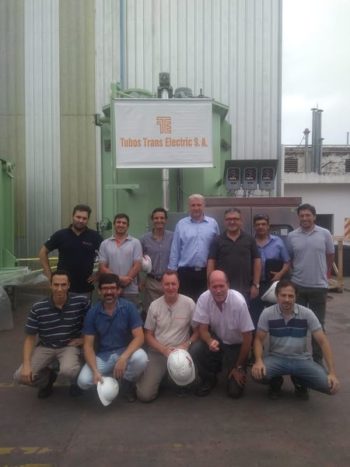 Misc
Posted by Patrick Haddad
SGB-SMIT has sent members of it's "Licensing & Consulting" department to help improve Argentinian firm TTE's transformer manufacturing proceess.
In February/March 2020, two experts from the SGB SMIT Group – Reinold Bertel for production and quality and Gilberto Moreira for technology – spent two weeks at the TTE plant in Cordoba, Argentina for the agreed assessment of the processes and production quality.
They were able to make valuable observations, validate the projected layout of the facility, and the purchased equipment, make recommendations and carry out a benchmark evaluation of four pre-selected power transformer designs.
Reinold Bertel comments on the results achieved as follows: "Energy distribution is a task that requires high standards to be maintained globally: There is no room for small-scale thinking, international cooperation is required. For us, the exchange with TTE was further proof that all participants benefit from each other in such cooperation".
Joaquíin Cáceres Alvarez, Managing Director of TTE, summarizes the cooperation so far: "In such consultations, it is not important to transfer the corporate culture from one company to another – that would not work at all. Nevertheless, you can learn a lot from what others do differently. The consultants from SGB-SMIT have shown us where improvements can be made – and how we can maintain our own corporate DNA and use it effectively.
SGB-SMIT's "Licensing and Consulting" department was founded with the intention ofdeveloping its own profit center from the licensing of the company's exclusive transformer designs and from consulting proven services. It also conducts worldwide discussions with transformer manufacturers, e.g. if they want to enrich their own product range or bring their production up to the current state of transformer technology. SGB-SMIT also makes its expertise available to pure investors who want to enter transformer production, i.e. for "greenfield" projects
Tubos Trans Electric S.A. (TTE) and SGB-SMIT have been working together since 2011. SGB-SMIT was asked by TTE to evaluate their current power transformer technology and a contract was signed to review the current state of the art of the manufacturing facilities of TTE.
Source: SGB-SMIT
Photo (for illustrative purposes): Image courtesy of SGB-SMIT
Comments