Siemens Linz marks 100 years in transformer manufacturing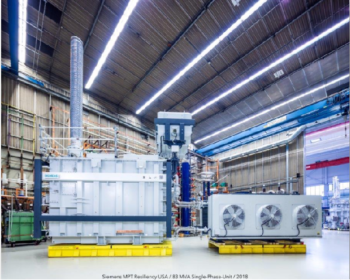 Companies
Posted by Patrick Haddad
Siemens Transformers Linz (STL) in Austria has reached an important milestone in 2020 – 100 years of transformer manufacturing.
Approximately 300 employees and apprentices work at the transformer plant in Linz to ensure reliable electric power supply in more than 50 countries around the globe. Through its century, STL has grown from a regional transformer company to an international market player with an export ratio of 80 %, producing more than 120 medium power transformers, earth-fault-neutralizersand reactorsannually.
"Despite a highly-competitivemarket, we were able to secure and develop our competitive position and grow significantly", says Ronald Schmid, managing director at Siemens Transformers Linz. "Moreover, we have doubled our North-American sales since 2015."
All of the plant's transformers correspond to the demands of the digital centuryand include an integrated, cloud-based monitoring system with Sensformer®-technology. Through an IoT (internet of Things) slot, data such as top oil temperature, oil-level, GPS (Global Positioning System) and winding current information can be measured in real-time.
A corresponding app also offers clients access to the cloud-based platform, providing a transparent real-time overview about the installed transformer units. In addition, theSensformer® advanced, that was introduced in 2020, provides real-time data on cooling inlet and outlet temperatures, offering the possibility of a digital twin of the real transformer.
"Our team is ready to significantly shape the next century of transformer technology through experience and spirit of innovation", says general manager Roland Schmid.
Source: Siemens
Photo (for illustrative purposes): Image courtesy of Siemens
Comments