Iran's Natanz nuclear station damaged by suspicious by blaze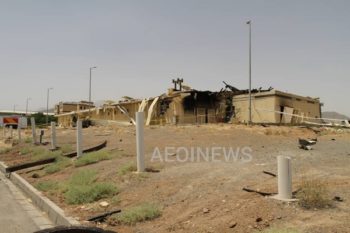 Misc
Posted by Patrick Haddad
A large fire broke out at Iran's Natanz nuclear station, the third such incident in Iran over the past month.
Iranian authorities revealed on that the Natanz nuclear enrichment facility sustained "significant damage" when a fire broke out there last Thursday.
The incident comes as part of a series of fires to have hit Iran's nuclear and power facilities over the past month.
The Natanz facility in Isfahan province is believed to be one of the most important nuclear sites in Iran. It houses a centrifuge assembly workshop. Centrifuges are needed to produce enriched uranium, which can be used to make reactor fuel and also nuclear weapons.
An Atomic Energy Organization of Iran spokesman admitted that the incident "could slow down the development and production of advanced centrifuges in the medium term." But he added that Iran would be able to "replace the damaged building with a bigger one that has more advanced equipment." In 2010, the Natanz site was also temporarily paralyzed by a cyberattack.
A previously unknown group calling itself "Cheetahs of the Homeland" has claimed responsibility for the incident, but its claim has not been verified.
Two weeks before the Natanz fire, an alleged nuclear testing site in Parchin was hit by a large explosion, which authorites attributed to a gas explosion. This was the third time similar incidents have happened at the Parchin site.
Two days after the fire at the Natanz nuclear site, a large fire was reported in Ahvaz in southwestern Iran. This was caused by a "distribution transformer explosion," according to firefighters. The fire apparently spread to the Zargan nuclear plant, just 5 kilometers from Ahvaz, a city of 1.5 million people.
Iran is the only country in the world operating a nuclear plant without being party to the Convention on Nuclear Safety, although the International Atomic Energy Agency oversees compliance with the 2015 nuclear deal known as the Joint Comprehensive Plan of Action.
Source: Arab News
Photo (for illustrative purposes): Image courtesy of IEOI
Comments