Collett delivers 31-tonne transformer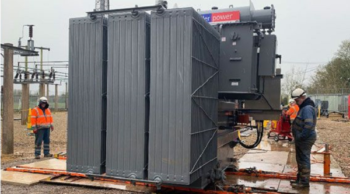 Substations
Posted by Patrick Haddad
British logistics firm Collett has successfully delivered a 31-tonne transformer to Knowl Hill substation.
Utilising a 6×4 DAF XF 510 and Faymonville low loader, the Collett team transported the 5.3m (L) x 2.9m (W) x 4.4m (H) transformer from Leeds to Knowl Hill, Berkshire.
Once on site, the bed of the trailer was lowered to allow for the positioning of the four jacks. With these in place, the transformer was gradually raised in 25mm increments until at the sufficient height to allow for the installation of the skidding track underneath.
By gradually lowering the jacks, the transformer was manoeuvred into position on the skid track.
Once settled, the team extended and retracted the push/pull until between the track's locking points gradually sliding the transformer towards it's designated siting on the substation plinth. Finally, the transformer was raised on jacks, allowing for the removal of the track before final lowering into position.
Source: Collett
Photo (courtesy of Collett):
Comments