Umeme to replace 182 transformers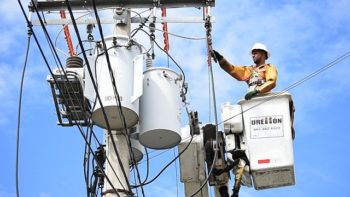 Misc
Posted by Patrick Haddad
Ugandan power distributor Umeme has pledged to spend $1.8 million on replacing 182 power transformers that are under considerable strain with new ones.
The company will replace transformers that are loaded up to 95 per cent, according to a new statement. To operate optimally, Umeme says demand on each transformer should not exceed 80 per cent.
Many of the transformers that are overloaded are in locations that have witnessed high population and business growth, resulting in increases in the consumption of power. The transformer injections are part of the utility's power access plan through which it will be connecting 300, 000 eligible applicants to the national grid annually.
The additions will be on the low voltage network, that is, the one that feeds domestic consumers (households, shops) as well as on the medium-voltage grid.
With Karuma hydro plant scheduled for commissioning late this year or early 2021, Uganda's installed power generation capacity will increase from 1, 254MW to 1, 854MW.
"What that means is, as a distributor, we need to increase the network capacity to deliver this power to the end-users," said Umeme's managing director Selestino Babungi.
Babungi added: "We need to connect more customers. Our plan for this year was to add 250, 000-plus customers on the grid. We need also to reduce losses, which has a good impact on pricing. Our target was to reduce losses from 16.4 per cent in 2019 to 14.5 per cent by the end of 2020. We need to expand the distribution network."
While approving Umeme's spend on transformers injections, the Electricity Regulatory Authority (ERA) said there is need for more distribution transformers.
"[Given that] Umeme has implemented its distribution transformer budget, the authority found it prudent to allocate investment funds for further grid strengthening," ERA wrote.
Source: The Observer
Photo (for illustrative purposes): Elektriker / alcangel144 / Pixabay / Free for commercial use
Comments