FosRich to branch out into transformer repair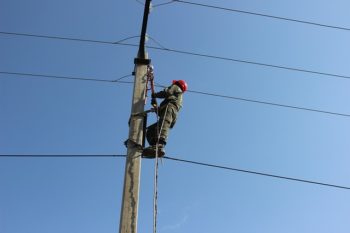 Misc
Posted by Patrick Haddad
Electrical lighting company FosRich has signed a four-year renewable contract with Jamaica Public Service Company (JPS) to repair over a thousand transformers yearly of the 40,000 deployed throughout the power utility's network.
Under the agreement signed Tuesday, the transformers are to be repaired and certified to ISO-9001 standard for good quality, according to CEO of FosRich Company Limited Cecil Forster.
It will obviate the need for JPS to send the massive transformers abroad for repairs and maintenance.
"This will save the company close to a billion dollars and reduce the need for purchasing these products overseas, resulting in savings in the use of foreign exchange," Foster said.
FosRich is in the business of distributing lighting products and manufacturing PVC pipes from its base in Kingston. This new repair business will operated from a 120,000- square-foot plant located in Hayes, Clarendon.
The company is investing about $100 million in the project, says Foster, who notes that Hayes has not seen this type of plant commissioned in the community since the 1960s, when the Jamalco bauxite refinery was built there.
The new transformer repair business, to operate under subsidiary company Blue Emerald Limited, is housed in two buildings that sit on 25-acre property. FosRich holds a 25-year lease on the property from owner Factories Corporation of Jamaica.
The equipment was acquired from Federal Transformer Manufacturing & Consulting Limited, a company that had been in the same line of business, transformer repair, but folded after its founder passed away.
"The buildout of the operation will be done in two phases initially. We're not using all of it [the complex] right now, but in another six months we will go to phase two, which I will not say more about at this time," Foster said.
He was alluding to a deal in the making that will see FosRich actually manufacturing transformers, in addition to maintenance and repairs.
"We will definitely be drawing business from the Caribbean, and as soon as we are fully established we are going to do a satellite operation, possibly in Grenada. The expertise is already in place, but certainly, we will be leveraging relationships down the line," Foster said.
FosRich will be replacing and upgrading Federal Transformer equipment over time. By October, the company plans to install two 50-tonne cranes to move the heavy-duty transformers in operation at the various JPS sub-stations around Jamaica.
Source: The Gleaner
Photo (for illustrative purposes): Elektriker / bou dee / Pixabay / Free for commercial use
Comments