500 MVA transformer delivered to Perdekraal East wind farm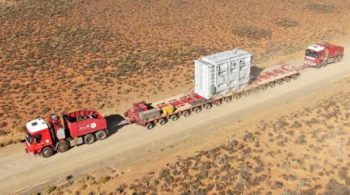 Misc
Posted by Patrick Haddad
A 500 MVA transformer has been delivered to the Perdekraal East wind farm in South Africa.
The arrival of the 500MVA mega transformer at the Perdekraal East project site marked a resumption of operations after the Covid-19 lockdown in the Western Cape.
Like the project's 48 turbine towers, the transformer was manufactured in South Africa – with local content set to account for almost half of the completed wind farm.
The project is being developed by Mainstream Renewable Power and is one of 12 wind farms currently being built in South Africa.
Mainstream has worked with domestic industry to meet the Department of Energy's local content requirements, which have steadily increased with each bid window, and is now using components that were previously only available as imports.
The transformer, which arrived on convoy from Pretoria, will step up the voltage of the wind farm's generated power to 400kV, making it suitable to feed into the national grid.
Following its arrival by road from Pretoria, Glenn Hobson, Construction Project Manager for Perdekraal Wind Farm, said: "We are pleased to confirm that our obligation for local content exceeds 48% of the total project value, making this a truly South African endeavour." 
Source: Mainstream Renewable Power
Photo courtesy of Mainstream Renewable Power
Comments