3,800 new transformers to be installed across Nigeria in deal with Siemens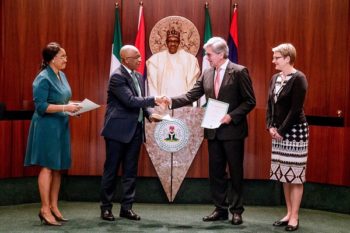 Misc
Posted by Patrick Haddad
A deal between the Nigerian Federal Government,the German Government, and Siemens AG has been agreed which will lead to a total of 3,800 new transformers being installed across Nigeria.
The 3,800 new power and distribution transformers will reportedly come under the first phase of the Presidential Power Initiative deal with the German government and Siemens, according to the Ministry of Power.
The vast bulk of the new transformers are to be distribution transformers 3,765 of the total 3,800. The remaining 35 will be power transformers.
In July 2019, the Federal Government and Siemens signed a Letter of Agreement on the Nigeria Electrification Road Map.
Additional data obtained from the Office of the Minister of Power showed that under phase one of the deal, a total of 1,904 units of protective devices would be deployed across electricity distribution projects.
Also, 11 units of safety and testing equipment would be made available, while 33 units of software licences would be provided.
Source: Punch
Photo (for illustrative purposes): Signing of the Implementation Agreement for Nigeria in Abuja / Siemens Press / Siemens
Comments