Northern Powergrid to roll out transformer eco-paint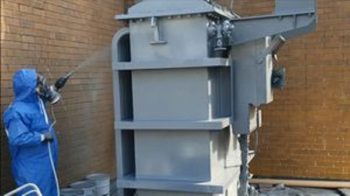 Misc
Posted by Patrick Haddad
Northern Powergrid, the power network operator for the North East, Yorkshire and northern Lincolnshire, has become the UK's first distribution network operator (DNO) to adopt an innovative new eco-paint as standard.
The paint provides a vital protective coating to electricity network assets and its unique formula cuts the amount of material needed to protect a power asset by a third. 
DNOs traditionally use alkyd paints on transformers and pylons. Traditional solvent-based paints can emit more than half the liquid-weight as gases, known as volatile organic compounds (VOC), into the atmosphere during the drying process.  This is not a problem with the new paint, which is water based. If rolled out across the UK electricity industry, the eco-paint could save more than 5.5 million tonnes of VOCs from being emitted into local air.

Following a successful trial, Northern Powergrid will deploy the new paint network-wide as part of its maintenance programme to protect its assets. The DNO expects the paint to reduce asset downtime by 166 days a year, as its properties mean assets can be painted more quickly and come back online faster. Additionally, the reduced asset downtime increases network resilience by minimising the risk of power outages, while also enabling better value for money for customers. The paint is supplied by North East firm Rosh Engineering.

"We're committed to delivering cost-savings and driving sustainability across every element of our business. Enabling the switch to renewable energy and decarbonising transport are two significant ways we are going green, but this project demonstrates our commitment to achieving net-zero carbon emissions in every way possible," said Geoff Earl, Northern Powergrid's Director of Safety, Health and Environment.

The DNO uses 1,000s of gallons of paint each year to protect 1,200 transformers across the North East, Yorkshire and northern Lincolnshire. It carried out trials with Rosh Engineering over 20 months from June 2018. The partners successfully applied the new formula paint to two large power transformers in Darlington Grid and Killingworth Substations. The performance assessment met all the required criteria, such as protection and durability, and delivered increased performance when compared with traditional alkyd paints. 
The first transformer to be painted as part of the new agreement is in Peterlee, County Durham. The rest of Northern Powergrid's transformers will be painted with the innovative new solution as required.
Source: Northern Powergrid
Image courtesy of Northern Powergrid
Comments