R&S release new earthquake-resistant transformer set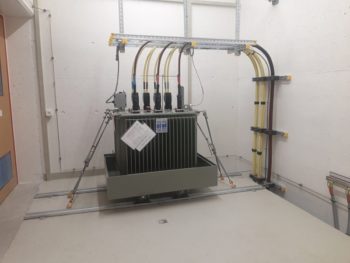 Tech
Posted by Patrick Haddad
Swiss transformer manufacturer Rauscher & Stoecklin has designed a new earthquake-resistant transformer set.
The new set is designed to help prevent transformers from moving or falling during earthquakes, which can in turn damage the transformer and cause network failures.
The new set consists of four adjustable steel ropes for lashing down the transformer, and is thus more flexible than the current solution with steel poles. Together with the set, corner reinforcements are recommended. The ring loops on the transformers are often too weak. The steel ropes are attached to the corner reinforcements and to a wall or the floor.
The set is applicable for all oil-type transformers up to 2,000 kVA or higher on request.
Transformers equipped with an oil retention vat are also included.
Source: R&S
Image courtesy of R&S
Comments